Confessions of an Invisible Man
Cooper McRae is going to be completely invisible for seven days. He plans to woo Lucy Pendleton - the girl at work who acts like he's invisible ALL the time, get himself one million pounds and meet his hero, Elton John. However, things don't go to plan. A drugs cartel, an ex-girlfriend's pregnancy and a neighbour with an unhealthy interest in Lego all conspire to make his week of invisibility more complicated. This is his confession. Will Lucy fall for his charms, or will she see right through him? A fabulous rom-com with a difference.
Buy Now £9.99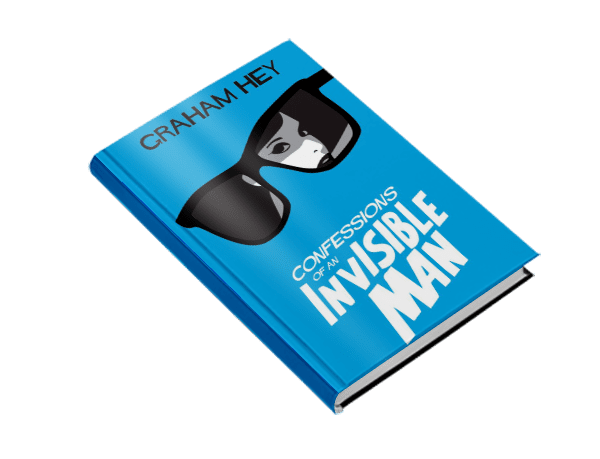 My Story
Graham began his career training as an animator and scriptwriter for several companies including Bob Godfrey Films where he worked on Henry's Cat TV show (do you remember the big Yellow Cat?) and he then moved in to comedy writing and produced scripts for Russ Abbott and Griff Rhys Jones amongst others. He was later approached by Express newspapers to write his own weekly comedy section, which was a big success and led to him writing for many top performers. He then began performing his own original comedy mindreading act and has worked for some of the world's top cruise lines.
Graham now writes for numerous performers and has also worked as the ghost writer for one of the world's most successful screenwriters. He has written five best-selling books of original comedy material for performers and plans to write more.
'Let's Hear it for the Boy' was is his first novel and he is currently writing his third one, 'Love on the Ropes' for release next year through Chronos Publishing.
Graham has two daughters and lives in York, North Yorkshire. He is quite good at writing, but rubbish at things like: DIY, anything to do with cars, and remembering what day to put the bins out.
Let's Hear It For The Boy
When twenty-something James Valentine pays an unscheduled visit to a fortune teller in Whitby, he is told that he's going to meet three women that will influence his life in ways that he could never imagine!
It's the fabulously funny story of a struggling magician trying to find true love somewhere amongst the gay bars, working men's clubs and cake shops of a West Yorkshire town.
A fruit cake, an International drugs dealer and the Heimlich Manoeuvre  play pivotal roles in this tale of romantic failure set during the 80's in the un-glamourous locale of Huddersfield.