My Story
Jay Fortune has lived all over England. He currently resides in Blackpool which embodies his love of entertainment and art. A full-time artist and writer, Jay spends his days reading, painting, writing and 'Tourist Dodging', cycling along the promenade whilst avoiding the holiday-makers. He loves books, art, magic, camomile tea* and cake. Jay recently celebrated his second decade of non-TV ownership. All Fall Down is his first novel. (*Or 'Green Jasmine' if they're out of Camomile) www.jayfortune.co.uk
All Fall Down
Michael Hegessay, proud father, loving husband and pillar of the community is the first Floater. Without explanation a mysterious force takes him to the sky, leaving him hovering above his house.
In his hand, his briefcase containing a dirty secret that could bring his world crashing down.
As the day wears on it's not long before the skies are full of people, each with a story to tell.
On the ground, fighting their own demons, a group of unlikely misfits come together in this explosive tale of Armageddon.
Stunningly visual, All Fall Down takes you on a journey through the lightest and darkest parts of humanity's collective soul.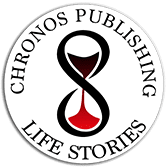 Chronos Publishing
Supporting new and established authors every step of the way