Surviving The War Against Yourself
Love, fear and psychosis: there are two sides to every story, here,
Tom & Amber share theirs..
Buy Now £12.99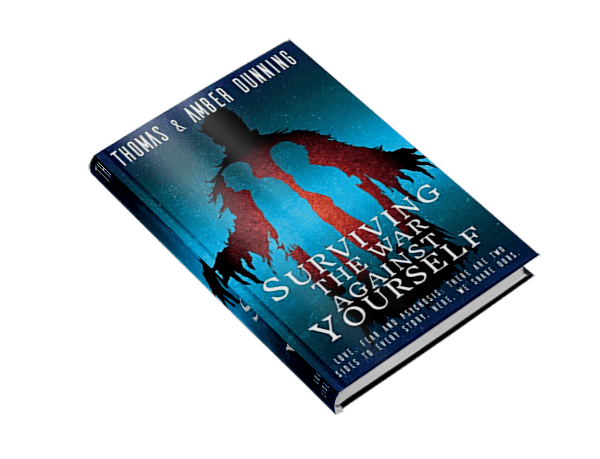 Our Story
Thomas Dunning, is a mental health advocate sharing his various personal stories from suicide to recovery. He runs the website mentalhealthrunner.co.uk as a platform to share his tales and to break down the walls of mental health stigma and hopefully save lives of those suffering in silence. At his worst, he attended A&E twice in one night due to various attempts at his own life. Unexpectedly, he found running – a simple activity where he can lace up his trainers and go wherever the roads take him; this is where he made the discovery on how physical exercise benefits mental health. He is diagnosed with Post Traumatic Stress Disorder, Emotionally unstable personality disorder and Social Anxiety Disorder and is driven to help motivate and inspire the world to help break the silence, de-stigmatise and help others on their journey through the enormously diverse, quagmire of mental health.
Since his recovery, he is a Service User Governor for the Lincolnshire NHS, runs a Mental health running club, Mental health advocate, Media volunteer for Mind and Rethink charities, Sponsored runner through Brooks Running UK, and travels the UK as a mental health public speaker and consultant – all in his spare time while maintaining his profession as a mechanical engineer.
Currently working as a Trainee Psychological Wellbeing Practitioner, Amber Dunning has always been passionate about mental health and supporting others. Following her husband's battle with suicide attempts and psychosis, Amber admits that caring became her identity and one which made her feel invisible and is now on a journey of self-discovery, reigniting her love for gigs and comedy, as well as a mission to help give a voice to carers through public speaking and, of course, this book.
Authors Thomas & Amber say, "Having lived through this, we thought it was just us that it happened to, we didn't realise just how many other people were going through it too. Over the last few months we've heard from those suffering with mental health issues and also carers who feel so alone. We wanted to tell our story so that people wouldn't feel isolated or that there wasn't an end to what they were suffering.
If we can help just one person, then sharing our story has been enough, but we hope to inspire others to reach out, open up and talk more openly."
Surviving The War Against Yourself
This is the true, brutal and honest account of a man and his wife living with mental illness. 
 Staring down at his hands, all Tom could see was blood. He could feel it dripping down his face and soaking through his clothes. In reality, there was no blood, just snot and floods of tears from a man in Psychosis, terrified and convinced that he could see something that wasn't there. Trying to reassure Tom that he was safe, his partner Amber frantically called the crisis team to ask for help. After months of intervening in Tom's suicide attempts and trying to reason with the voices in his head, for her, this was a well-rehearsed routine, but it was exhausting. When would it end? Would Tom ever get better? What would the future hold for this young couple? 
Surviving the war against yourself is the true story of a couple's journey through mental illness and its devastating impact on their life. In a brutally honest account of fear, pain, love and hope, Tom shares what it was like for him to suffer mental illness and Amber opens up about her life as his carer. 
Told from both sides, this story holds nothing back, it gives the reader the harsh insight into Psychosis, PTSD and Emotionally Unstable Personality Disorder. Here both Tom & Amber share how it felt to be trapped for months without support, to face abuse from those they thought were friends and to almost paying the ultimate price